Clint Eastwood is 91 years old. Since 1971, and already consolidated as one of the great movie stars, he jumped behind the cameras and directed four dozen of films. Not as a whim, but as a true author, weaving impeccable masterpieces like "The Unforgivables", "Golden Girl", "Letters from Iwo Jima" and "Gran Torino".
"Cry Macho – The Path to Redemption" may not have the impact of some of your great movies. Yet it is a melancholy and contemplative cut of an artist who hasn't needed to prove anything to anyone for a long time. From the height of his stature as an icon, all Clint seeks, in this case also as a protagonist, is to tell a good story.
Based on a book published in 1975, and on his radar since 1988, "Cry Macho" repeats some themes that accompany Eastwood's career. The reflection of a life that never reached its potential. A chance for redemption by becoming the father figure of a troubled youth. The serenity of the experience before a world that brings other values.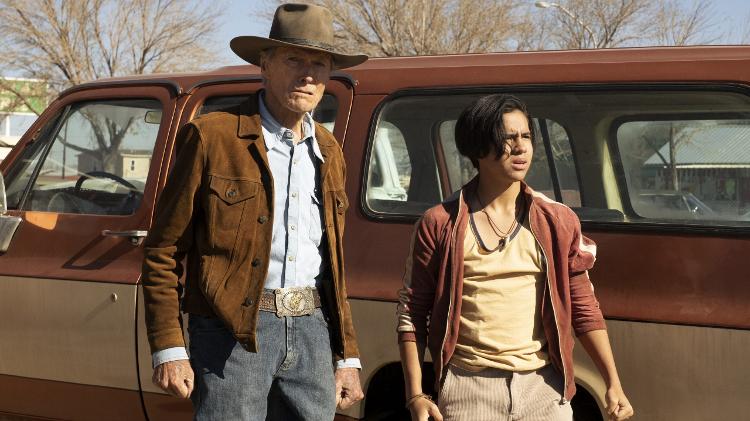 Clint plays Mike Milo, who went from a life of rodeo glory to the depression of alcoholism when an accident cut short his career as a cowboy. The personal tragedy that took his wife and child had sunk his personal abyss. For Milo, the days drag on in a routine of simply surviving.
When we meet him, all the hurt is also a shadow of the past. His torpor is broken when an ex-boss (Dwight Yoakam's role) assigns him the task of bringing (a euphemism for "kidnapping") his son, under his mother's custody in Mexico. The boy, Rafael (Eduardo Mineff), is used as a bargaining chip, and lives on the streets, making his own living with cockfights. His champion is, in this case, Macho.
Nick Schenk's screenplay, who collaborated with Clint on "Gran Torino" and "The Mule," wipes N. Richard Nash's book of all fat. No parallel plots explaining the relationship between Rafael's parents, no such conventions that demand a "villain", no gratuitous tension. "Cry Macho" is not that kind of film.
Isolated in a border town, waiting for the right moment to cross the line to Texas, Mike and Rafael seek to understand their role in the world. The first, as he reflects on his choices and how much time he has left, thinks about how, for the first time in a long time, he can do the right thing. The second, intoxicated by the possibilities of youth, discovers the sacrifices imposed on the path to maturity.
It's a delicate story, told with vigor and a certain tenderness by an artist with no time to waste. It's curious how we get used to reading about "visionary directors" and "revolutionary authors" who often deliver glossy but hollow films. With his extensive career, Clint knows what makes a story connect with the audience, understands the most basic narrative movements and uses them, no matter the scale, to create art.
Art, regardless of how it expresses itself, walks on the shoulders of giants. The best movies, to stay in this job, are created by filmmakers who are not afraid to throw open their baggage, their influences, the reasons why they fell in love with cinema in the first place. Don't trust those who seek to create beauty out of nothing: watching the masters is still the best school.
It is a privilege, therefore, to live in an age when giants still embrace their craft with almost youthful enthusiasm. At 74, Steven Spielberg faces a musical for the first time, reshooting "Love, Sublime Love", which has the legendary Robert Wise's signature on the original film. Martin Scorsese, 78 years old, continues to renew his repertoire and nail pearls that time will transform into classics.
Francis Ford Coppola recently announced, at the age of 82, that he intends to invest the fortune accumulated over the last decades in his dream project, "Megalopolis". And I won't even mention Ridley Scott, who at 83 is with not one but two of the most anticipated movies of 2021, "The Last Duel" and "Casa Gucci."
I've lost count of how many times Clint Eastwood has announced a retirement that never comes. He said in "Gran Torino" that he was no longer in the mood to work in front of and behind the camera – and since then he has done it twice more. It hasn't been a decade since he shot a $500 million-plus movie, "American Sniper." He waited 33 years to shoot "Cry Macho". At 91, time is on your side.